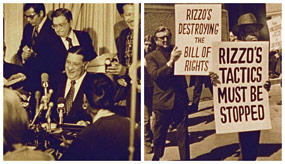 Frank Rizzo Returns in Remastered 1978 Documentary
Philly looks gritty as hell as pols and residents debate whether Rizzo is a hero or a demagogue.
April 28, 2016 by: David Gambacorta
Frank Rizzo is having a moment.
Earlier this year, Philadelphia magazine contributor Jake Blumgart explored the sense of deja vu that people felt while watching Donald Trump's bombastic and routinely offensive presidential campaign grow increasingly popular across the country, and found echoes of Rizzo in Trump's schtick — tough-guy talk and populist messaging that resonates with working class and middle class whites who want a leader who will just tell it like it is.
The New York Times made a similar Rizzo-Trump connection earlier this week. And now Rizzo's posthumous role in this election season is going to take on another dimension with the looming re-release of a long-forgotten documentary from his heyday. Director Robert Mugge filmed the stellar Amateur Night at City Hall: The Story of Frank L. Rizzo in 1977, when Rizzo was in his second term as mayor, and the city was as divided over Rizzo's character as voters are today over Trump's.
Click Below to View a Clip from the Movie