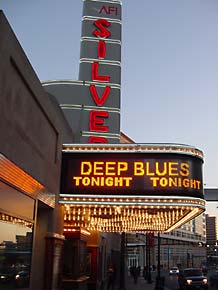 THE MUSIC FILMS (and more) OF ROBERT MUGGE
STEVE BELL STORYTELLER: A Newsman Living History (2020) a 2-hour film portrait of veteran ABC News correspondent and anchor Steve Bell and his first-person journalistic view of American history during the 1960s, 1970s, and 1980s: political shootings and assassinations, the wars in Vietnam and Cambodia, urban riots, Watergate, the opening of China to the West, and much more. Also a 4 1/2-hour oral history.
SHIP TO SHORE: Launching the Legendary Rhythm & Blues Revue (2018) a 91-minute film shot on the January 2007 Legendary Rhythm & Blues Cruise, just before the newly formed Legendary Rhythm & Blues Revue began its first cross-country tour of the United States. Featuring performances by the Tommy Castro Band with special guests Deanna Bogart, Ronnie Baker Brooks, and Magic Dick of the J. Geils Band.
MIMIíS MEMOIRS: Foundations of a Family (2017) a 6-hour illustrated oral history created by Robert Mugge for his wife Diana Zelmanís extended family. Featured are Dianaís exhaustive interview with her mother, Mimi Saxe (a.k.a. Marian Ruth Schultz), and shorter interviews with her uncle, Floyd Schultz, and stepfather, Norman Saxe.
ZYDECO CROSSROADS: A Tale of Two Cities (2015) an 87-minute film about Philly radio station WXPN's yearlong zydeco project, the current state of the Creole music scene in and around Lafayette, Louisiana, and the influence of Mississippi blues on zydeco. Features performances by Buckwheat Zydeco, C.J. Chenier, Chubby Carrier, Nathan Williams, Major Handy, Rockin' Dopsie, Jr., Rosie Ledet, Creole United, Soul Creole, Chris Ardoin, Lil' Nate, and Corey Arceneaux.
ROSIE'S IN THE HOUSE TONIGHT (2015) a 55-minute portrait of zydeco artist Rosie Ledet (part of the larger Zydeco Crossroads project).
GIVING UP THE GHOSTS: Closing Time At Doc's Music Hall (2014) an 80-minute portrait of Muncie, Indiana doctor and musician John Peterson and the unique music and arts venue he owned for two decades.
SOUVENIRS OF BUCOVINA: A Romanian Survival Guide (2013) a 119-minute film about the Bucovina region of Northern Romania, two thousand years of mostly foreign domination, and the survival strategies of Jews, Rroma (gypsies), and everyone else.
ELVIN BISHOP'S RAISIN' HELL REVUE (2011) a 78-minute film featuring a concert by blues artist Elvin Bishop's Raisin' Hell Revue on the October 2010 Legendary Rhythm & Blues Cruise, intercut with excerpts from an onboard Elvin Bishop interview.
ALL JAMS ON DECK (2011) a 96-minute film about blues jamming shot on the October 2010 Legendary Rhythm & Blues Cruise and featuring Johnny Winter, Elvin Bishop, Marcia Ball, Tommy Castro, Kim Wilson, Lee Oskar, Lowrider Band (formerly War), Larry McCray, Coco Montoya, Jimmy Thackery, Vasti Jackson, Commander Cody, Rev. Billy C. Wirtz, John Nemeth, Kelley Hunt, and many others.
BIG SHOES: Walking and Talking the Blues (2010) a 90-minute record of a midwestern tour by Nashville-based blues band Scissormen and a look at related music scenes and venues throughout the region.
DEEP SEA BLUES (2007) a 118-minute film about the January 2007 Legendary Rhythm & Blues Cruise to the Caribbean starring Taj Mahal, The Fabulous Thunderbirds, Buckwheat Zydeco, Otis Clay, Bobby Rush, Tommy Castro, Tab Benoit, Michael Burks, Lil' Ed & the Blues Imperials, Mel Waiters, Deanna Bogart, Ruthie Foster, Ronnie Baker Brooks, Watermelon Slim, Mitch Woods, Joey Gilmore, Tasha Taylor and the Phantom Blues Band, Earl Thomas, Leon Blue, Dick Waterman, Roger Naber, Judy Alexander, and more.
A NIGHT AT CLUB EBONY (2003-2007) a 75-minute history of the legendary Indianola, MS music club featuring performances by B.B. King, Lil' Dave Thompson & Lee Shot Williams, David Lee Durham & Ladies Choice Band, Vasti Jackson & Patrice Moncell, Barbara Pope Looney & Mickey Rogers, plus interviews with club owner Mary Shepard, Jon E. Jones, Bobby Rush, Gatemouth Moore, and several others (not recommended - recut without director's permission).
NEW ORLEANS MUSIC IN EXILE (2006) a 113-minute film about the effects of Hurricane Katrina on the New Orleans music community starring Dr. John, Irma Thomas, Cyril Neville, Marcia Ball, Eddie Bo, Theresa Andersson, Kermit Ruffins, The Iguanas, ReBirth Brass Band, Cowboy Mouth, Jon Cleary, Papa Grows Funk, Papa Mali, World Leader Pretend, beatinpath, Stephen Assaf, and many others.
MEMPHIS BLUES AGAIN: The 25th Anniversary W.C. Handy Blues Awards (2005) a 112-minute concert doc featuring performances by Charlie Musselwhite, Pinetop Perkins, Kim Wilson, Bobby Rush & Alvin Youngblood Hart, Michael Burks, E.C. Scott, Eddie Shaw, Rory Block, Willie Kent, Henry Butler & Vasti Jackson, Bettye Lavette, Otis Taylor, Fruteland Jackson, Eric Bibb, and many more (will likely never be released by Mississippi Public Broadcasting due to financial issues).
BLUES DIVAS (2004) a series of longform concert docs filmed at Ground Zero Blues Club in Clarksdale, MS, hosted by Ground Zero co-owner Morgan Freeman, and featuring 8 of America's most soulful female performers: Deborah Coleman, Mavis Staples, Irma Thomas, Bettye Lavette, Odetta, Ann Peebles, Denise LaSalle and Renee Austin. Also available as a single two-hour film.

BLUES BREAKS (2003) 13 60-second mini-movies about Mississippi blues featuring Steve Cheseborough, Willie King, Vasti Jackson, and James "Super Chikan" Johnson.
LAST OF THE MISSISSIPPI JUKES (2003) an 86-minute film about Jackson, Mississippi's Subway Lounge and Clarksdale, Mississippi's Ground Zero Blues Club with performances by Alvin Youngblood Hart, Chris Thomas King, Bobby Rush, Vasti Jackson, Patrice Moncell, Levon Lindsey, Abdul Rasheed, Greg "Fingers" Taylor, Lucille, Eddie Cotton, Dennis Fountain, Pat Brown, George Jackson, King Edward Blues Band, House Rockers, and more. Also featuring interviews with Jimmy King, Morgan Freeman, Bill Luckett, Dick Waterman, Steve Cheseborough, etc.
RHYTHM 'N' BAYOUS: A Road Map to Louisiana Music (2000) a 2-hour film exploring the music of north and south Louisiana with performances by Kermit Ruffins, Hackberry Ramblers, Rosie Ledet, Dale Hawkins, Henry Butler, Claude King, Nathan Williams, Sister Pearlee Tolliver, Jambalaya Cajun Band, Henry Gray, Rod Bernard, Lil' Brian, Dale & Grace, Po' Henry & Tookie, La Famille Viator, Rev. Gerald Lewis, Ever Ready Gospel Singers, Easter Rock Church, Lil' Alfred, Warren Storm, Buddy Flett and Kenny Bill Stinson.
HELLHOUNDS ON MY TRAIL: The Afterlife of Robert Johnson (1999) a 95-minute concert film documenting a week-long tribute to blues legend Robert Johnson staged by the Rock & Roll Hall of Fame & Museum with performances by Keb' Mo', Bob Weir & Rob Wasserman, G. Love, Chris Whitley, Joe Louis Walker & Billy Branch, David "Honeyboy" Edwards, Henry Townsend, Robert Lockwood Jr, Alvin Youngblood Hart, Rory Block, Gov't Mule, Roy Rogers, Bill Morrissey, Guy Davis, Peter Green & Nigel Watson, and Tracy Nelson with Marcia Ball & Irma Thomas. Also featuring an interview with Robert Johnson's childhood friend Willie Coffee in Robisonville, MS.
IGUANAS IN THE HOUSE (1996) a 27-minute film about New Orleans band the Iguanas as they record one of their Tex-Mex/R&B/roots rock albums in a New Orleans recording studio.
TRUE BELIEVERS: The Musical Family of Rounder Records (1994) an 86-minute portrait of music label Rounder Records featuring performances by Alison Krauss, Bill Morrissey, Steve Riley, Marcia Ball, Irma Thomas, Beau Jocque, Tish Hinojosa, Jimmy King, Bruce Daigrepont & Johnson Mountain Boys filmed in Texas, Louisiana, Tennessee, Kentucky, Massachusetts and Pennsylvania.
THE KINGDOM OF ZYDECO (1994) a 71-minute film on the Southwest Louisiana zydeco scene featuring Boozoo Chavis, Beau Jocque, John Delafose and Nathan Williams.
GATHER AT THE RIVER: A Bluegrass Celebration (1994) a 101-minute film shot at the 1993 World of Bluegrass events in Owensboro, Kentucky and featuring performances by Del McCoury, Peter Rowan, Doc Watson, Ralph Stanley, Nashville Bluegrass Band, Johnson Mountain Boys, Tim O'Brien, Hazel Dickens, California, Mac Wiseman, Nakashima Family, Kukuruza, Pete Wernick, Jerry Douglas and Michael Cleveland.
PRIDE AND JOY: The Story of Alligator Records (1992) an 87-minute portrait of Chicago blues label Alligator Records featuring performances by Koko Taylor, Elvin Bishop, Lonnie Brooks, Katie Webster, and Lil' Ed & the Blues Imperials filmed during the label's 20th anniversary tour.
DEEP BLUES (1991) a 91-minute exploration of Mississippi blues featuring rock star David Stewart of Eurythmics, music writer Robert Palmer, and blues musicians Junior Kimbrough, R.L. Burnside, Big Jack Johnson, Roosevelt "Booba" Barnes, Lonnie Pitchford, Jessie Mae Hemphill, Jack Owens & Bud Spires, and Booker T. Laury and filmed on location in Memphis and Mississippi.
KUMU HULA: Keepers of a Culture (1989) an 85-minute film examining Hawaiian dance traditions since 500AD and including colorful performances by numerous hula halau as filmed on all six major Hawaiian islands.
ENTERTAINING THE TROOPS (1988) a 90-minute video documentary about entertainers who supported Allied war efforts during World War II featuring rare 1940s performance footage, a reunion of Bob Hope with members of his WWII troupe, and interviews with Dorothy Lamour, Frances Langford, Mel Blanc, and Maxine Andrews of the Andrews Sisters.
HAWAIIAN RAINBOW (1987) an 85-minute film on Hawaiian music featuring Auntie Genoa Keawe, Raymond & Elodia Kane, Sam Bernard Trio, Vicky Holt Takamine & Pua Ali'i 'Ilima, Makaha Sons of Ni'ihau, Andy Cummings, Ho'opi'i Brothers, Jerry Santos & Haunani Apoliona, Violet Pahu Liliko'i, Billy Hew Lin, Michael Kahikina, and Puanani Burgess.
SAXOPHONE COLOSSUS (1986) a 101-minute portrait of jazz great Sonny Rollins featuring an ensemble performance in upstate New York and an orchestral world premiere in Tokyo, Japan.
THE RETURN OF RUBEN BLADES (1985) an 82-minute portrait of actor, lawyer and salsa artist Rubén Blades filmed in his native Panama, at his Harvard Law School graduation, at a club in New York City, and with Linda Ronstadt in a Los Angeles recording studio.
GOSPEL ACCORDING TO AL GREEN (1984) a 94-minute portrait of soul singer and gospel preacher Al Green filmed at a concert in Washington, D.C. and a church service in Memphis, TN.
COOL RUNNINGS: The Reggae Movie (1983) a 105-minute concert film shot at Sunsplash in Jamaica featuring Third World, Rita & Ziggy Marley, Gil Scott-Heron, Mutabaruka, Alton Ellis, Sugar Minott, Gregory Isaacs, Skatalites, Judy Mowatt, Musical Youth, Chalice and Bankie Banx.
BLACK WAX (1982) a 79-minute portrait of poet-singer-songwriter Gil Scott-Heron filmed at the Wax Museum Nightclub, at national monuments, and in local neighborhoods of Washington, D.C.
SUN RA: A Joyful Noise (1980) a 60-minute portrait of visionary artist Sun Ra and his avant- garde jazz Arkestra filmed in Philadelphia, Baltimore and Washington, D.C. in 1978 and 1980.
AMATEUR NIGHT AT CITY HALL (1978) a 75-minute "musical" documentary about the late Mayor of Philadelphia Frank L. Rizzo.
GEORGE CRUMB: Voice of the Whale (1976) a 54-minute portrait of Pulitzer Prize-winning composer George Crumb featuring a performance of his "Vox Balaenae for Three Masked Players."
FROSTBURG (1973) a 50-minute portrait of an Appalachian mining town in western Maryland.
Robert Mugge has also written an unpublished novel called Blues Country and several unproduced screenplays.
To purchase DVDs and Blu-rays of Robert Mugge films currently available, we recommend you try http://amazon.com and similar sites.
You may also be able to find the following soundtrack CDs or LPs for Robert Mugge films:
"BIG SHOES: Walking and Talking the Blues" on VizzTone.
"Last of the Mississippi Jukes" on Sanctuary.
"G-Man" by Sonny Rollins on Milestone (music from SAXOPHONE COLOSSUS).
"The Alligator Records 20th Anniversary Tour" on Alligator (music from PRIDE AND JOY).
"Deep Blues" on Atlantic (music from DEEP BLUES - currently out of print).
"Hawaiian Rainbow" on Rounder (music from HAWAIIAN RAINBOW - currently out of print).
"Raymond Kane - Master of the Slack Key Guitar" (music from HAWAIIAN RAINBOW).
"Give Him Cornbread, Live!" by Beau Jocque on Rounder (music from THE KINGDOM OF ZYDECO)
"Live! At the Habibi Temple, Lake Charles, Louisiana" by Boozoo Chavis on Rounder (music from THE KINGDOM OF ZYDECO)