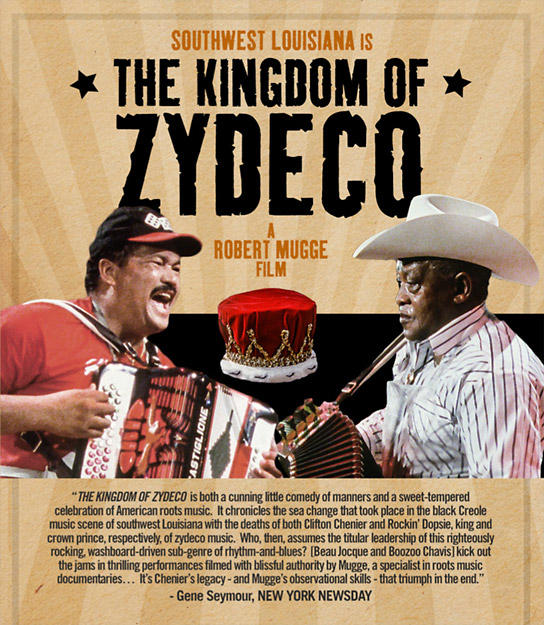 Now on Blu-ray from MVD Visual!
THE KINGDOM OF ZYDECO

(1994)
"THE KINGDOM OF ZYDECO is both a cunning little comedy of manners and a sweet-tempered celebration of American roots music. It chronicles the sea change that took place in the black Creole music scene of southwest Louisiana with the deaths of both Clifton Chenier and Rockin' Dopsie, king and crown prince, respectively, of zydeco music. Who, then, assumes titular leadership of this righteously rocking, washboard-driven sub-genre of rhythm-and-blues? A colorful, engaging cast of disc jockeys, club owners, record dealers and other zydeco artists have their own opinions and biases in the matter. The Chavis-Jocque tussle is prototypical American status buffoonery painted in folk miniature. Both these men kick out the jams in thrilling performances filmed with blissful authority by Mugge, a specialist in roots music documentaries such as 1991's DEEP BLUES. It's Chenier's legacy - and Mugge's observational skills - that triumph in the end."
- Gene Seymour, New York Newsday
| | |
| --- | --- |
| | |
| | |
| Front | Back |
Mouse over the thumbnails above
to switch the cover at the left.